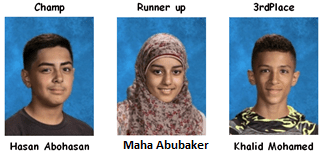 On Thursday, January 25, 2018, 48 students from 6th, 7th, and 8th grade brought their geographical skills to the Team Meeting Room and battled hard for about 3 hours. After the dust settled, Hasan Abohason emerged as the GeoBee Champ for 2017/2018. The Runner Up, Maha Abubaker gave him a fight to remember and could have been the champion herself if it wasn't for the very last question. In 3rd position was Khalid Mohamed after a long tie breaker with about 10 other students.
Next step will come next week, when the Champ will try to qualify to the State GeoBee.
Thanks to every student who participated and the appropriate certificates will be distributed when ready.