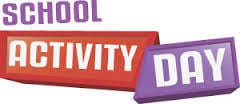 Stout Student Council's 1st Activity Day is scheduled for Thursday November 21st from 3:00 to 4:30 pm.
You MUST have a ride home at 4:30 as there is NO bus to take you home.
Wristbands will be sold during all lunches on Nov. 20th and 21st for $1.00 each.
You MUST have the wristband on to enter the activity area.
Bring extra money for snacks and special activities like pop shot too.
Thank you! Mrs. Schulkey and Mrs. Klemetson